EXPO CIHAC 2014 Trade Show, Centro Banamex, Mexico City
Between 14 and 18 October 2014, ISOTRA presented its products at the EXPO CIHAC 2014 trade fair in Mexico. The largest of its kind in Mexico, this event celebrated its twenty-sixth edition this year. The following branches were present at the trade fair: construction industry and materials, home design, architecture, interiors, structures, and urbanism. The trade fair is intended primarily for professional public, i.e. distributors, building contractors, purchasing agents, dealers and other professionals.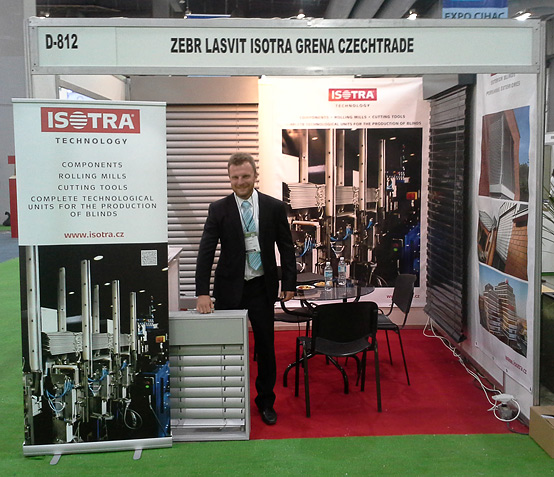 Mexico ranks among the fastest growing countries of Latin America in the area of construction industry and design. In addition to large-scale projects like the development of new railway corridors, redevelopment of sea ports, construction of new factories and other industrial complexes, the country also sees a substantial growth in the area of development of residential and office buildings. Government expenditures for the development are expected to reach one billion dollars in 2014, which is a 6.5% increase in comparison with the previous year.
Our goal was to present primarily the exterior blinds and machines for their manufacture. In doing so, we were also seeking prospective business partners, who would be interested, at first, to import finished blinds, and consequently help us find a suitable investor to purchase a profiling mill in order to produce exterior blinds in Mexico.
Our presentation under the auspices of the Mexican agency of the Ministry of Industry and Trade and the CzechTrade agency was a success among more than 500 exhibitors. Many passers-by were attracted by the samples of remotely controlled exterior blinds. Especially architects showed overwhelming interest in exterior blinds. We have returned home with more than a hundred new contacts, including available candidates for the distribution of our products as well as prospective partners for the purchase of machines.

We firmly believe this was not our last visit to Mexico!