ISOTRA Technology - New Machine TLPv4
ISOTRA a. s. presents TPLv4 – fully automatic rolling mill with ladder-sewing possibility.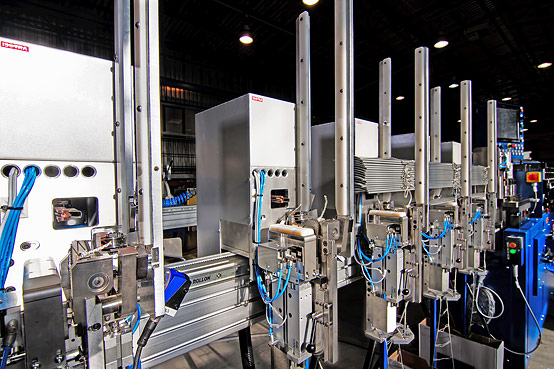 The TPLv4 rolling mill is intended for the cutting of Cetta 65 and Cetta 80 slats. The basic material processed is aluminium strap. The strap passes through the machine, where it is shaped into the slats, which are consequently punched and cut to length.
The mill is equipped with an automatic ladder-sewing system. Accuracy of this operation is monitored by a camera system during the manufacturing. The mill is also equipped with a receiver for storing the finished packets.
The main rolling mill assembly consists of a strap unwinding module, a profiling module, a cutting module, and a stacking module. Various auxiliary equipment, for instance a label manipulator or a vibrating container, can be added to the mill.
Advantages of the new TPLv4 rolling mill
fast manufacturing and accuracy of punching;
entering of dimensions from a controlling PC through data transmission from an information system;
easy change of slat dimensions during the machine operation;
possible manufacturing of non-standard shapes of blinds;
automatic or manual setting of the receiver stands;
easy change of the rolling speed;
marking of components by labels or an inkjet printer.
The success of this innovated mill has been proven by selling this machine to the Japanese company OILES ECO. "The sale of this equipment complex, which includes the rolling mill, manufacturing know-how of ISOTRA and components for the production of exterior blinds, has provided a possibility for 130 million of Japanese people to effectively shade both private and commercial premises," says sales representative, Daniel Bogdanovic.